Back to All Press Release
Find & Seek Trivia Game Now Available for Swan Boat Rides at Echo Park and Lake Balboa
For Immediate Release: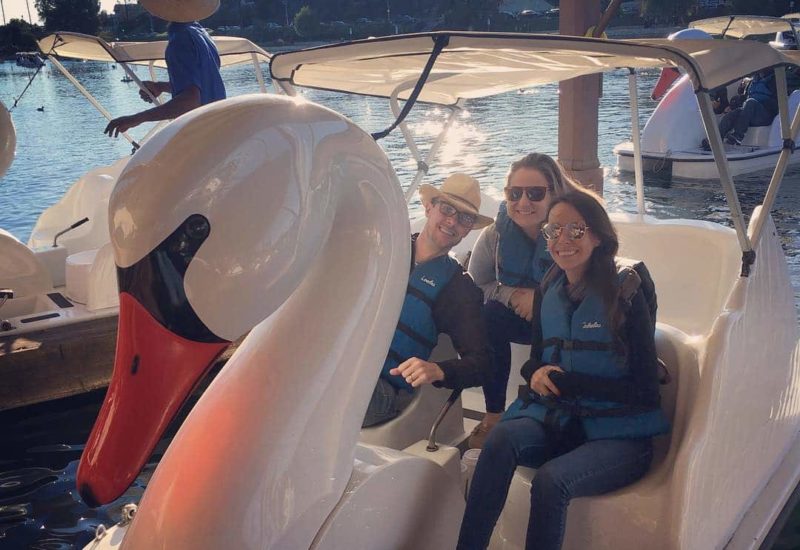 Aug 13, 2019
Los Angeles – Have you had a chance to ride the majestic swan pedal boats at Echo Park or Lake Balboa yet!?  Some say they are the hottest thing since sliced bread, and they just got even more fun! Whether you're a regular renter or a complete newbie, Wheel Fun Rentals launched a fun and interactive game to make your time on the water even more adventurous.
Announcing the new Find and Seek Trivia Games are now available to play at both Echo Park and Lake Balboa Swan Boat locations. The digital game is a combination of find and seek, trivia, scavenger hunt, and process of elimination. The content includes local flora and fauna as well as historic questions about the park and the local area.
"It was important for us to deliver this game through a media platform that met the demands of our renters. We didn't want renters to have to bother with creating an account or downloading an external app or software to play," said Sheena Walenta, Marketing Director at Wheel Fun Rentals.  "We found a great solution where the game can be played on any mobile device directly from our website. The platform will track your progress as you play, and at the end, you can view your score and even share it with friends on social media."
The swan boats have always been a place where friends and family could come enjoy some time out on the lake, but now with the addition of the new Find and Seek Trivia Game, there is the added benefit of some friendly competition, problem-solving, and critical thinking.  Plus you learn fun facts about the park's ecosystem while you play!
The games can be found on the menu bar of the Swan Boat rental websites at staging.wheelfunrentals.com/echo-park and staging.wheelfunrentals.com/balboa-boats. Each game is made specifically for its own park location.
Swan Boat rentals are $11 an hour per adult, and $6 an hour per child 17 years and under. Group rental rates and reservations are also available for birthdays, private parties, corporate team-building, and other special events.  Rentals are available 7 days a week, year-round from 9am to sunset at both locations. (Echo Park also offers night rides seasonally.) Check websites for most up-to-date hours at: staging.wheelfunrentals.com/echo-park and staging.wheelfunrentals.com/balboa-boats
Wheel Fun Rentals Media Contact: Sheena Walenta (805) 650-7770
About Wheel Fun Rentals
Founded in 1987, Wheel Fun Rentals started with four-wheel Surrey cycles, evolved into specialty bike rentals and bike tours, and now offers recreational rentals of all kinds from more than 100 outlets in 16 states.  Specializing in unique bikes and tours, Wheel Fun Rentals has been offering clean, healthy family fun and affordable outdoor entertainment to more than 2.5 million customers annually from city and state parks, resorts, and retail outlets through corporate locations and franchised territories. For more information about Wheel Fun Rentals please visit www.staging.wheelfunrentals.com or call 805-650-7770. Follow Wheel Fun Rentals: @WheelFunRentalsOfficial on Facebook, @WheelFunRentalsOfficial on Instagram, and @WheelFunRentals on Twitter.