Back to All News
Star Tribune
Feds now Recognize Lake Calhoun as Bde Maka Ska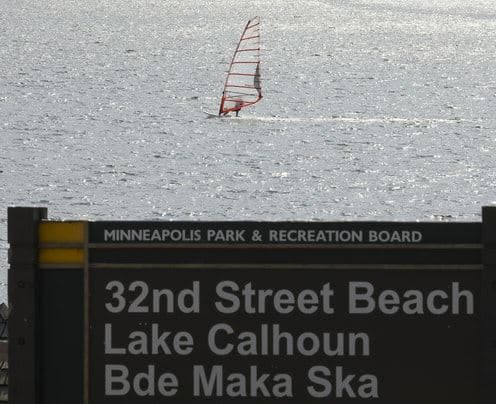 Lake Calhoun is officially off the map. The federal government's approval of its name change was the last hurdle needed for the body of water in south Minneapolis to be recognized by its original Dakota name: Bde Maka Ska. It also ends a yearslong controversy propelled by the national movement to remove monuments tainted by racism. The lake's former namesake was an ardent supporter of slavery.
"What this means is that any maps created by the government will say Bde Maka Ska instead of Lake Calhoun," said Robin Smothers, a spokeswoman for the Minneapolis Park Board, which also pushed for the change.
The Minnesota Department of Natural Resources approved the name change in January. The U.S. Board of Geographic Names put its stamp of approval on the change last month. Carly Bad Heart Bull, a descendant of Cloud Man, a Dakota leader of an agricultural settlement at the lake in the 1830s, called it a name restoration rather than a change.
The U.S. Board on Geographic Names is a federal body created in 1890 to maintain uniform geographic name usage throughout the federal government. Going forward, the board will recognize the Dakota name for the lake, "Lake White Earth" or "Lake White Bank." Lake Calhoun had been named in honor of John C. Calhoun, the seventh vice president of the United States from 1825 to 1832 and a senator from South Carolina. He was a staunch defender of slavery. The process to change the name took more than two years. A group of citizens opposed the change, calling it unnecessary, and some long argued that Bde Maka Ska (beh-DAY mah-KAH skah) is hard to pronounce and that the Calhoun name is valuable to the city despite its history.
On Monday, several lake goers still referred to it as Lake Calhoun for the sake of ease.
"I've just been trying to say it more because I feel like people don't necessarily know the name yet," said Ellie Martinson, 19. "But it feels respectful to use the original name."
Up the road from the lake, signs of its former namesake are still plentiful. Lake Calhoun Parkway runs through Uptown. Calhoun Beach Framing and Calhoun Chiropractic Clinic stand just a few blocks away from Bde Maka Ska. Employees from both businesses said they don't expect their names to change anytime soon.
"I don't think we're going to be changing our name from Calhoun Beach Framing to — I can't even pronounce it," said Darin Anderson, 52, who works there.
Meanwhile, other nearby businesses were quick to shed the former name. The first was Perennial Cycle, formerly known as Calhoun Cycle.
At Wheel Fun Rentals, a lakeside company that rents out kayaks, canoes and paddleboards, employees taped over "Lake Calhoun" on the stand's map and instead "Bde Maka Ska" was written in black marker. When Lizzy Rode, 20, answers the company's phone, she uses the lake's new official name first.
"Some people say: 'I must have the wrong number,' " Rode said.
Staff writers Karen Zamora and Katie Galioto contributed to this report.
Star Tribune, Feds now Recognize Lake Calhoun as Bde Maka Ska >
Article by Tim Harlow