Back to All News
Hennepin County Choose to Reuse
Fun Things You Should Rent to Fully Experience a Minnesota Summer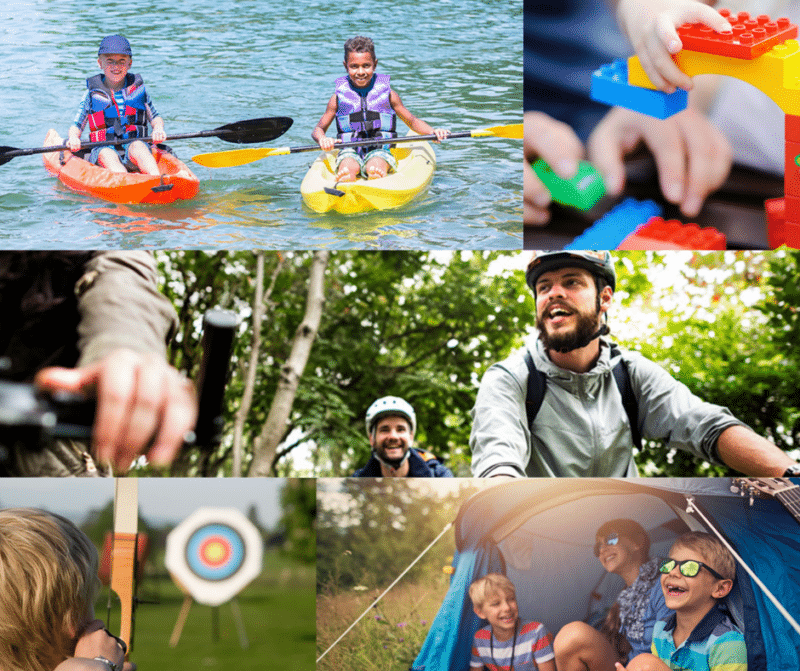 Ah, summer! There's just nothing like it after a long Minnesota winter. People flock outdoors to the lakes to enjoy the weather and spend time with family and friends.
Because there are so many outdoor summer activities in Minnesota, it can be hard to decide what new things to try. Gear can be expensive. And you don't want a pricey paddleboard gathering dust in your garage or storage locker because you decided it wasn't for you.
There's a simple solution you may not have considered. Renting!
There are so many fun things you can rent in Hennepin County to make the most of summer. Renting lets you try a variety of experiences without spending much money. Plus, it's a great way to reuse existing items rather than buying new ones.
Renting Bikes
Renting bikes in Minneapolis is a fun and affordable way to get around the city or check out one of our many bike paths. Renting cycling gear like mountain bikes, hybrid bikes and bikes for kids – is a great and affordable way to see the great outdoors in Minneapolis.
Are you looking for something a little different? Check out Wheel Fun Rentals, where you can get a 4-wheel, multi-passenger Surrey cycle. You've probably seen these around town, with their bright canopy covers. If you want to be with your family or group of friends, this is a great option.
Rent Camping Gear
Wooded Nomad has a library of high-quality camping equipment and hiking gear available for rent. And with more than 5,000 campsites and thousands of miles of trails in Minnesota, you'll have no shortage of places to head.
Renting camping equipment saves you time and money, plus you won't need space to store gear long-term. Some fun things you can rent range from backpacks, sleeping gear and tents to lighting, cookware and outdoor chairs. If you're not sure what to rent, Wooded Nomad offers bundles with everything you need based on how you plan to camp.
Another option is the Center for Outdoor Adventure (COA) through the University of Minnesota. They offer a variety of outdoor gear rentals – from tents, sleeping bags and sleeping pads to hiking and climbing equipment.
Rent a Kayak
When you live in the city of lakes, getting out on the water during the summer comes with the territory. Unfortunately, it can be expensive to purchase gear and most apartment dwellers don't have space for items like kayaks. Again, renting is a great alternative.
To rent kayaks for the city lakes, you can rent through Wheel Fun Rentals at Lake Bde Maka Ska, Lake Harriet or Lake Nokomis.  If you'd rather get out on the river, Paddleshare is a self-serve kayak sharing system in the Twin Cities metro area that lets you rent a kayak and paddle to a destination downriver.
Choose your route and rent a kayak online to get your access code. Then, head to an on-river locker at your starting location where you'll find a kayak, paddle and life jacket. Explore the river and return the kayak to your ending location. Watch this video for more information.
Related: Get on the water with canoe, kayak and paddleboard rentals
Rent Toys
The Minneapolis Toy Library is a toy lending program for families with children up to five years old. It works just like a book library – check out up to five toys, take them home for 2-4 weeks, then bring them back and exchange them for something different.The library operates on a membership basis and scholarships are available.
This is a great way to reduce waste and manage costs. Plus, you'll be able to promote early childhood development through a wider variety of toys. The toy library's inventory includes trampolines, balance boards, hula hoops, garden tools, water play toys, sprinklers, camping sets and more to make the most of your child's summer.
Rent a Bow and Arrow
Did you know? Archery is one of the oldest trainable disciplines still in practice today — humans have been shooting arrows for at least 20,000 years!
Even if you've never picked up a bow and arrow before, Three Rivers Park District is a great place for archers of any experience level to test and refine their marksmanship. With rentable gear, three world-class stationary ranges and even a shooting tower, the 27,000 acre park district offers an unforgettable outdoor experience.
The seasonal events calendar for Three Rivers includes classes, camps and even family-focused training around the art of archery.