Back to All News
Sidewalk Dog
SUP with your Pup: Dog-Friendly Paddle Board Rentals in the Twin Cities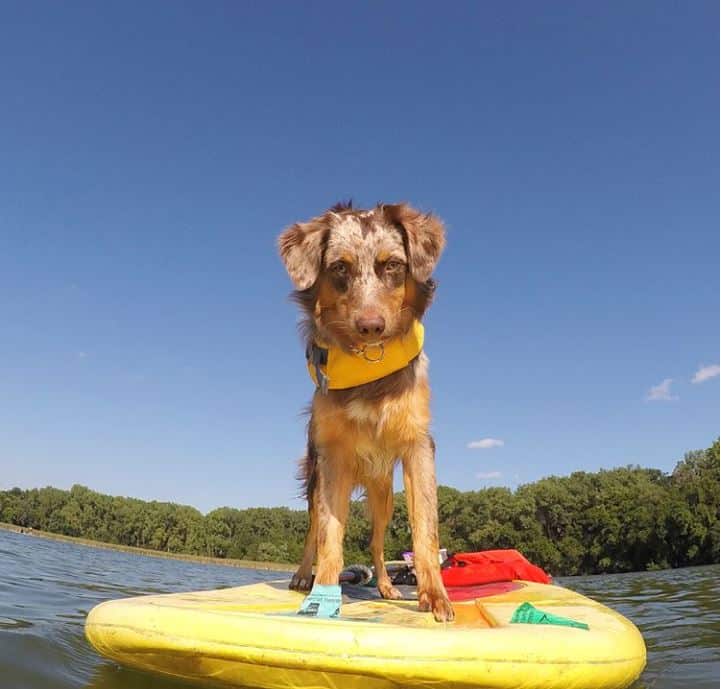 Minnesotans know the best way to keep cool on a hot summer day is to be on the water. Good thing we've got over 10,000 lakes and countless water activities to choose from — like stand-up paddleboarding (SUP). SUP's not only a great way to enjoy our lakes, but a great workout as well. And Fido loves a good splish-splash, too! Lucky for you, we've got the scoop on a few of the best dog-friendly paddle board rentals in the metro to get your (doggy) paddle on with your pooch.
Consider a canine life vest to keep your pup safe in case they decide paddling on top of the water isn't as exciting as paddling in the water. First, a few things to keep in mind:
Help keep the paddleboards (and your bare feet!) safe from the scratches of a frantic pup. If you don't think your doggo will be comfortable or calm enough for a paddleboard adventure, this sport may not be for them.
On to the good stuff!
On-Location Rentals
These outfitters provide on-location SUP (and other) rentals right on the lake:
Wheel Fun Rentals, multiple locations in Minneapolis and St Paul: Bde Maka Ska/Lake Calhoun (map), Lake Harriet (map), Lake Nokomis (map), and Lake Como (map)