Back to All News
MSP Magazine
Ultimate End-of-Summer Twin Cities Park Crawl
Let's face it, you guys. Most of us (probably) made some sort of ill-advised, vague, comically idealistic set of exercise/workout goals at the beginning of the summer. Maybe it was running around Lake Harriet every day or swimming laps in Lake Calhoun or biking along the Grand Rounds bike trail. Either way, the result (for most of us) was most likely the same: disappointment shrouded in seven straight episodes of "Dance Moms" underneath a pile of empty potato chip bags.
Well, if that's your story, this may be your shot at redemption. One last hurrah before the leaves begin to fall.
Picture us this. You wake up at the crack of dawn (or maybe even a bit before to compensate for your Eeyore-like movements). Without even having time to think about that day's HGTV lineup, you head out the door, Horace's famous Latin words bouncing around in your mind. Carpe diem. Seize the day. You load up your car with the bare essentials (or "necessities", if you're fun like that) and race the sun to the heart of the Twin Cities. Then you park. And go.
Here's what you'll need: athletic clothing, swim gear, a (functioning) bike, a helmet and sunscreen (stay safe), probably a change of clothes (for perspiration's sake), a towel, sunglasses, a hammock or blanket, water, frisbee golf discs (if you have them), just enough cash (for meals, rentals, and a potential hotel room), a headlamp and reflective clothing, and a whole lot of ambition.
Thus begins your epic, last-chance-at-redemption, maybe-too-intense-for-a-dad-bod, marathon-style Twin Cities Park Crawl.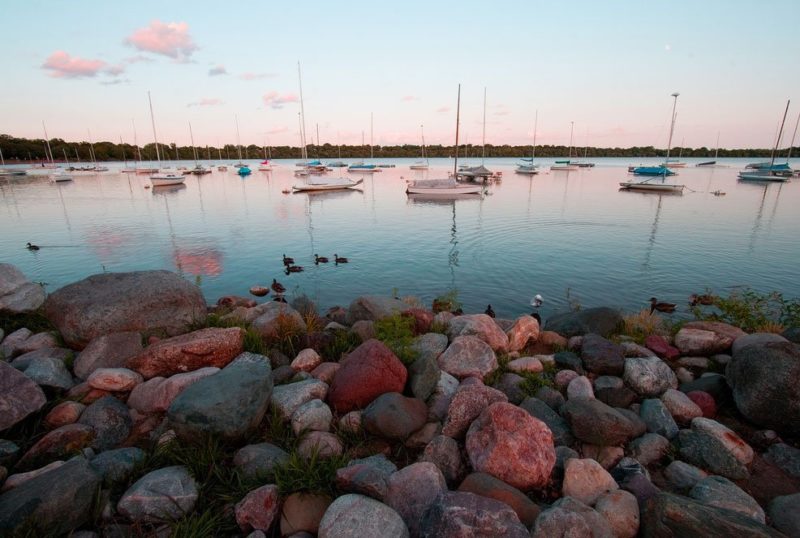 Put on those trunks (approx. 1:30 p.m.): The route may have been shady, but that didn't stop you from (most likely) sweating through your first set of clothes. It's not fall yet, after all, and the Minnesota sun isn't going down without a fight. Fight back by hitting the main beach on the northwest side of lake and get in that water. We're talking full submersion, none of this "dip the toes in" stuff. There's a Wheel Fun Rentals there too, so if it's a paddleboard you want, then a paddleboard you shall have. Just make sure to put that swimsuit to good use.