Back to All Press Release
Wheel Fun Rentals
Wheel Fun Rentals at Lake Calhoun to Offer Summer Stand Up Paddleboard Yoga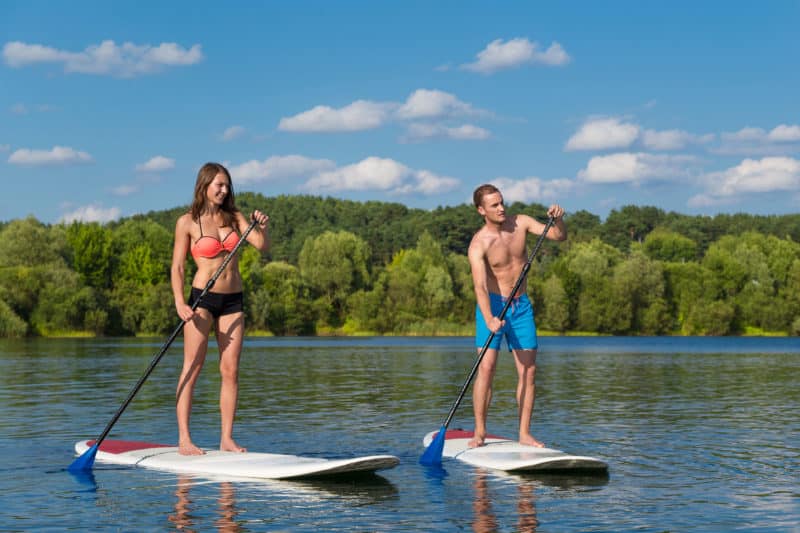 For Immediate Release:
May 24, 2016
Minneapolis, MN – Wheel Fun Rentals is excited to announce its new summer series of Stand Up Paddleboard (SUP) Yoga at Lake Calhoun. With classes every Monday night, Saturday morning, and by appointment, Stand Up Paddleboard Yoga classes start June 4th and run through the month of August. Whether a yoga devotee or new to the activity, guests will enjoy perfecting their downward dog pose, increase their balance and core strength, have fun, and find relaxation on the tranquil waters of Lake Calhoun!
Popular yoga instructor, Briana Rasmusson, will teach groups of up to 10 during this innovative one hour class. Unlike many other SUP Yoga classes, kids and families are encouraged to sign up and attend. Advanced reservations are required and can be arranged at the BDE Maka Ska kiosk or by calling (612) 823-5765. Class cost is $20 per person and includes a stand up paddleboard, anchor, life jacket (removable during yoga portions), and professional instruction.
"With FUN as our middle name, we like to see people of all ages and abilities moving, paddling, and enjoying the great outdoors," said Jena Willenbring, Wheel Fun Rentals' Minnesota Regional Manager. "Our SUP Yoga builds confidence and strength, releases endorphins, is good for the body, reduces stress, nurtures the soul, and last but not least, is fun!"
For those attending Wheel Fun Rentals' SUP Yoga, be prepared to get a little wet from the drip of the paddle and splash of the water. Dress for the weather; lightweight, synthetic clothing is best. Prepare to be out in the sun; sunglasses, sun block and a hat that won't blow off. A water bottle and towel is also recommended.
It's almost summer – make sure you stay cool and stress free with Stand Up Paddleboard Yoga at Lake Calhoun. Located at 3000 Calhoun Parkway East, make sure to stop by to reserve your rental and enjoy pedaling around the park, paddling on the lake, and much more. This is an adventure that both tourists and locals will be sure to enjoy. For more information, please visit www.wheelfunrentalsmn.com.
###
About Wheel Fun Rentals
Founded in 1987, Wheel Fun Rentals started with four-wheel Surrey cycles, evolved into specialty bike rentals and bike tours, and now offers recreational rentals of all kinds from more than 100 outlets in 16 states.  Specializing in unique bikes and tours, Wheel Fun Rentals has been offering clean, healthy family fun and affordable outdoor entertainment to more than 2.5 million customers annually from city and state parks, resorts, and retail outlets through corporate locations and franchised territories. For more information about Wheel Fun Rentals please visit www.staging.wheelfunrentals.com or call 805-650-7770. Follow Wheel Fun Rentals: @WheelFunRentalsOfficial on Facebook, @WheelFunRentalsOfficial on Instagram, and @WheelFunRentals on Twitter.